Our Botanical Treasures and Heritage
Through the scenic topography of South Africa lies an unapparelled experience of remarkable transformation. Here, you can stand among the lush trees of a forest as easily as you emerge into an arid open grassland. The countless vibrant plants of the Fynbos coexist side by side with extreme desert climates, each biome breathing its own distinct beauty into the wildlife it has nurtured for millenia. This is the place where African Botanics proudly grows its roots.
Rooibos in South Africa's remote Cederberg Mountains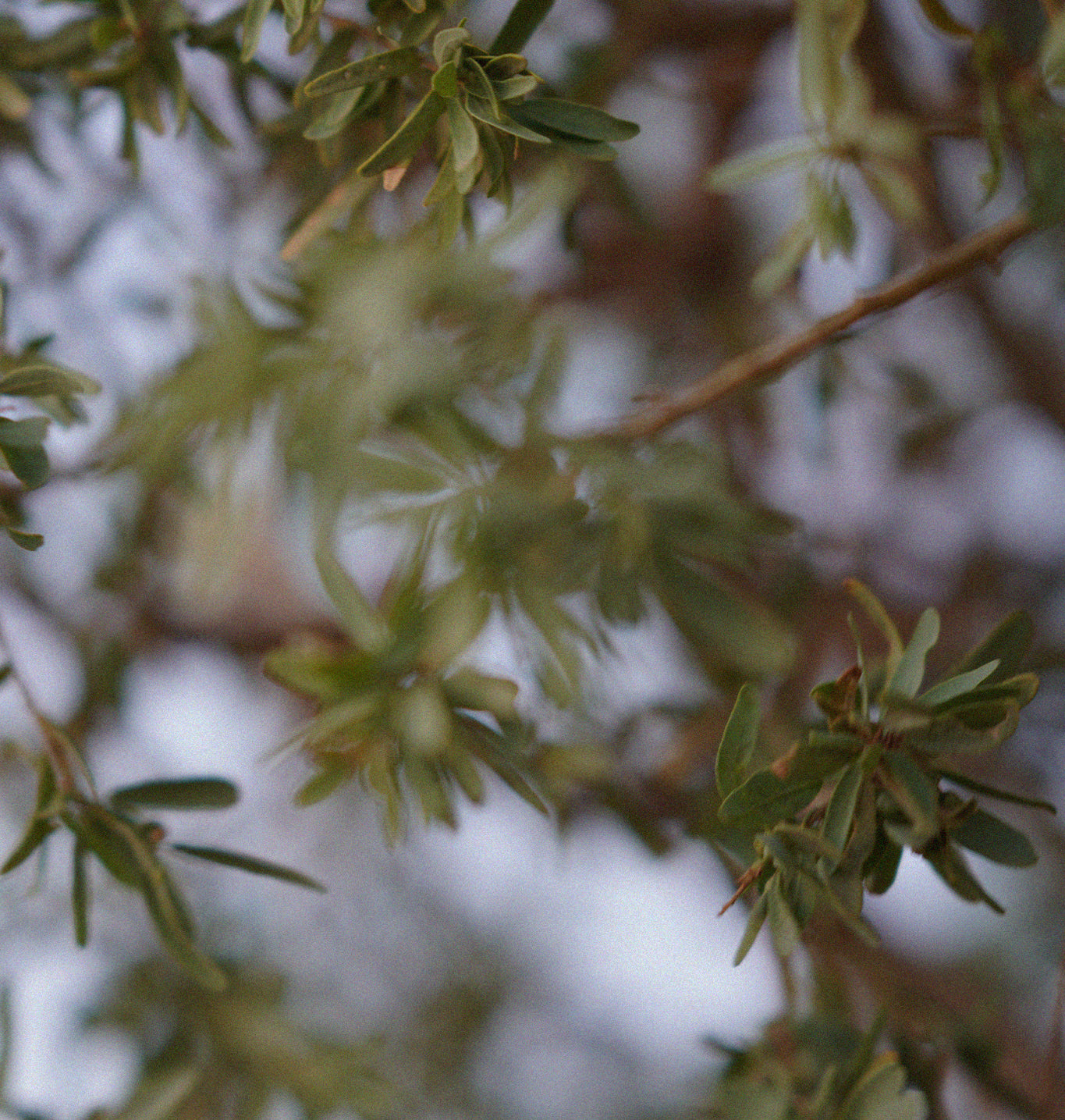 Balancing Pure Nature and Phytotherapy
Conscious ingredient selection is the starting point that sparks all of our creations, which celebrate nutrient-rich, biodynamic and wild-grown plant varieties of the highest quality. During this process, we meticulously check for proven therapeutic properties, as well as sustainable and ethical sourcing.

We take pride in carrying out this research and product formulation in South Africa, allowing us to closely involve and support a network of local businesses. Throughout our brand's history, our vertical integration process has always ensured that we maintain loyal relationships with cultivators and producers we personally know, giving us special, direct insight into the natural ingredients that power our functional formulas. We source these ingredients from a highly selective group of environmentally conscious micro-producers - both in South Africa and around the world - paying a high premium to our partners for these precious raw materials.

Our skincare essentials feature single-origin botanicals with potent adaptogenic properties, honoring generations of traditional medicinal knowledge. Years of cutting-edge scientific research, combined with centuries-old phytotherapy, drives the nutrient-rich core of every African Botanics product.

We include the most concentrated plant extracts and active molecules, which are known for their ability to thrive in extreme environmental conditions. Their resiliency infuses our skincare with heightened regenerative, protective and anti-inflammatory benefits. We then apply the latest in-lab supercritical extraction methods to ensure the maximum level of efficacy, purity and stabilized potency in each batch.
African Potatoe (Hypoxis Hemerocallidea)
Purifying & anti-inflammatory - A medicinal plant in the Hypoxidaceae family. It contains a high concentration of plant sterols. Researchers have found that plant sterols greatly enhance the functioning of T-cells, which control and regulate the immune system, and possess potent anti-inflammatory properties similar to cortisone. African potato also contains active antimicrobial and antioxidant-rich compounds which help to purify and protect the skin.
Soothing & healing - A succulent plant belonging to the family of Asphodelaceae and is widespread in Southern Africa. Bulbine frutescens is a unique plant with incredible healing, soothing and moisturizing qualities. It enables the restoration of skin barrier function, reducing sensitization and improving moisture retention.
Baobab (Adansonia Digitata)
Protecting & regenerating - Improves skin tone and elasticity, excellent for softening skin and helping heal any imperfections due to its antioxidants. It contains high concentrations of Vitamin A, D3, F, K and E that help renew cell membranes and stimulate collagen formation. Vitamin F is an unsaturated fatty acid that rejuvenates and renews of cell membranes.
Buchu (Agathosma Betulina)
Detoxifying & anti-inflammatory - Wild grown in the rugged mountains which provide the perfect ecosystem for this small, tough aromatic shrub to thrive. Buchu is a Fynbos legend that survives these extreme landscapes and weather conditions far better than most of its neighboring plants. Buchu has a reputation for reducing free radical damage and for providing a strong defense against the effects of environmental stresses and UV exposure. Rich in Camphor, Diosphenol, Mucilage, Diosmin and Pugelone. It is highly antiseptic, anti-inflammatory and is a powerful detoxifier. Boosts skin cell regeneration and provides optimum therapeutic benefits for all skin types including reactive and blemish-prone skin.
Hydrating & anti-inflammatory - Wild grown on on the rocky slopes in the Eastern Cape of South Africa. Cape Aloe has a higher level of the vital polysaccharides and is 20 times more potent than the aloe vera. Cape Aloe stimulates normal lymphocytes and possesses enzymes which stimulate the growth of new cells. In 1967, a surgeon Prof. Christiaan Barnard's first heart transplant team noted that applying Cape Aloe gel to wounds accelerated the production of cells responsible for collagen production. This was confirmed by later studies showing the healing properties of Cape Aloe, which is rich in polysaccharides, antioxidants, amino acids and minerals.
Cape Rose Geranium (Pelargonium Graveolens)
Soothing & balancing - An uncommon Pelargonium species native to the Cape Province of South Africa. Known to create a balance between oily and dry skin by balancing the production of sebum. It is suitable for all skin types when used in proper concentrations on the skin. Cape Rose Geranium has been studied by the medical community in the treatment of inflammatory skin conditions and infections, and has shown promise for future investigations.
Cape Mahogany (Trichilia Emetica)
Regenerating & nourishing - Cape Mahogany is a large tree that thrives in evergreen forests in high rainfall areas. This cold-pressed oil extracted from the seeds is abundant in important essential fatty acids (linoleic, palmitic, stearic and oleic) which help improve skin tone, nourish and reduce the appearance of fine lines.
Boswellia Frereana (Somalian Frankincense)
Anti-inflammatory & grounding - The Boswellia tree grows in dry mountainous regions of northern Somalia. Known as "The "king" of frankincense, its oleoresin extract has been used medicinally for thousands of years to treat inflammation. It is high in chemical compounds pinene, thujene and cymene, powerful anti-inflammatory, antibacterial, antispasmodic, and analgesic properties that help soothe skin inflammation. Boswellia Frereana helps firm the skin, improve circulation, prevent collagen degradation and help reduce fine lines while enhancing mental function.
Honeybush (Cyclopia Genistoides)
Antioxidant & photo-protective - Honeybush occurs only in Fynbos biome, from the Cederberg Mountains southwards to the Cape Peninsula, South Africa. It is excellent for problematic skin, it improves skin texture and smoothness. Active compound in Honeybush, mangiferin, exhibits anti-photoaging activity against UVB-induced damage. It has been shown to reduce damage to collagen caused by UVB radiation in clinical studies. Honeybush provides antioxidant and photo-protective properties while soothing skin irritations and reducing redness.
Immortelle (Helichrysum Splendidum)
Antioxidant & anti-inflammatory - Immortelle occurs naturally in the summer rainfall areas of South Africa and has been used for centuries for its healing and skin regenerating properties. Flavonoids and terpene compounds help reduce scarring and encourage optimal healing. According to medical studies, Immortelle has strong antioxidant and antibacterial properties that makes it ideal for problematic skin. It is rich in different metabolites, including pyrones, triterpenoids and sesquiterpenes, in addition to its flavonoids, acetophenones and phloroglucinol.
Rooibos (Aspalathus Linearis)
Antioxidant & anti-inflammatory - Meaning 'red bush'; is a broom-like member of the plant family Fabaceae and is an endemic Fynbos plant. It is rich in polypehnols, flavonoids, phenolic acids, oligosaccharides, and polysaccharides. The major flavonoids found in Rooibos are aspalathin, iso-orientin, orientin, isovitexin, vitexin, isoquercitrin, hyperoside, quercetin, luteolin, chrysoeriol and rutin. Rooibos has been thoroughly researched as an active free-radical scavenger and is a source of alpha hydroxy acid, copper, zinc, magnesium and vitamin D which help reduce puffiness under your eyes but also stimulate the dermis, boosting production of collagen and elastin by the fibroblasts. Rooibos has been proven to be anti-allergenic and is known to help skin conditions such as inflammation, rashes, acne, eczema and dermatitis.
Resurrection Plant (Myrothamus Flabellifolius)
Protecting & regenerating - a remarkable plant possessing an extensive root system which extends into the crevices of the rocky slopes on which it grows. Clinical studies confirm that a combination of the polyphenolic tannin, 3,4,5-tri-O-galloylquinic acid, and a disaccharide (Trehalose) is responsible for the activation of rapid hydration and protection of the skin against desiccation. Trehalose is associated with anhydrobiosis which is the ability of plants to withstand extended periods of desiccation due to high water retention capabilities. Extreme summer and winter conditions combined with environmental factors often dehydrate the skin, negatively affecting condition, skin radiance and cell regeneration. Resurrection Plant is a clinically proven solution for the prevention of dermal water loss, dry dull skin, epithelial cell mortality and visible wrinkling.
Nourishing & regenerating - Rosehips are ethically sourced in the mountains of Lesotho from organic wild stocks. The oil contains Omega-3, 6, 7 and 9 essential fatty acids as well as the antioxidants beta carotene and lycopene. Clinically proven to reduce wrinkles, fine lines and pigmentation. Rosehip oil is rich in vitamins A and C, which are both necessary for the production of collagen.
Marula (Sclerocarya Birrea)
Antioxidant & anti-inflammatory - The Marula tree has a history that dates back thousands of years. Known as the Tree of marriage and as a symbol of fertility. The tree prefers to grow in bushveld or savanna vegetation on the low slopes of plateaus. The Marula seeds used to make our nutrient-rich oil are ethically sourced from socially and environmentally responsible producers. Marula oil has a high antioxidant count and is rich in skin- benefiting micro-nutrients and essential fatty acids, especially Omega 9. In addition to its protecting and regenerative effects, Marula oil also helps reduce fine lines and wrinkles, soothe redness and sensitivity and helps prevent free radical damage.
Neroli (Citrus Aurantium)
Balancing & regenerating - Neroli is one of the most sought after oils in aromatherapy and perfumery. It is made from the blossoms of the Orange Tree and has a very distinct intoxicating scent. Neroli oil stimulates skin cells to regenerate, giving it strong anti-scarring properties. Along with its regenerative qualities, Neroli Essential Oil has powerful antibacterial properties, which makes it a prime ingredient to target breakouts and balance the sebum production. Rich in antioxidants, it combats free radicals, which can soothe acne-induced inflammation and redness.
Regenerating & restorative - When used in aromatherapy, Jasmine Grandiflorum oil is believed to help alleviate stress and depression. Known for its stimulating and arousing properties, Jasmine awakens your mind and boosts energy levels. Rich in antioxidants and active compounds that stimulate cellular regeneration, Jasmine helps to fight the signs of premature skin aging. Jasmine oil is highly effective in evening out skin tone, healing scars and reducing the appearance of blemishes such as age spots.
Firming & antioxidant – Kigelia is rich in antioxidants including flavonoids, steroidal saponins, phytosterols and quercetin. These antioxidants protect skin against damage caused by UV radiation and can inhibit some enzyme functions. Kigelia extract has proven skin tightening and firming properties, while reducing wrinkles and fine lines.
Kalahari Melon (Citrillus Lanatus)
Regenerating & anti-inflammatory - Drought-resistant and sustainable Kalahari Melon also known as the Tsamma melon is native to the Kalahari Desert of South Africa. It contains 70% Essential Fatty Acids (EFAs) and 2,800 mg/kg natural Vitamin E. Compared with Argan oil, Kalahari Melon oil contains two times more Essential Fatty Acids and 5 times more Vitamin E. Due to high levels of linoleic acid Kalahari melon is anti-inflammatory and therefore excellent for use on oily and acne skin. Linoleic acid reduces the hormonal secretion of sebum, restores skin elasticity and reduces wrinkles.
Purifying & clearing - Harvested in a sustainable manner from a remote and pristine area of the vast Kalahari Desert in South Africa. Here, salt water from an ancient underground lake, fed by subterranean streams, is laid to rest on a pan, sun-dried and harvested. Sun-dried Kalahari Salt crystals are rich in micro-nutrients and are charged with vital minerals, trace elements that help re mineralize, mattify the skin and reduce pore size.
Enhancing Transformative Actives With Scientific Innovation
We take these rejuvenating benefits even further by harnessing the latest advances in green biotechnology, choosing carbon-efficient processes that have the advantage of lowering our environmental impact. The labs we partner with perfectly recreate the natural environments of these potent ingredients under clinical, controlled settings, encouraging plants to sustainably grow with the greatest care. As a result, we can better preserve the integrity of our remarkable ingredients for unparalleled nutrient density and high antioxidant count. It's the key that unlocks the full potential of each of our formulations, giving you noticeable revitalizing, moisturizing, firming and balancing effects from the very first application.
Alpha Hydroxy Acids (AHAs)
From fruits and plants. AHAs provide progressive chemical exfoliation to the surface of the skin by breaking down the glue like substance which keeps dead skin cells attached to the outer layers of our skin. Naturally derived AHAs gently and effectively exfoliate, reduce the appearance of hyperpigmentation, and visibly improve skin tone and texture.
Hydrolyzed Lupine Protein
Firming & toning - Hydrolyzed lupine protein is a naturally occurring ingredient and is obtained from the seeds of the Lupine plant. By stimulating the lymph drainage, it reduces the oedema caused by the accumulation of interstitial liquids and it reduces the surface of under-eye bags. Tone and firmness are improved thanks to a boosting effect of metabolic synthesis.
Antioxidant & anti-aging - Resveratrol is a potent antioxidant found in the skin of red grapes and berries. It protects a cell's DNA from damage that is caused by free radicals and neutralizes these free radicals thereby reducing and slowing the signs of aging and cell damage. Resveratrol is beneficial for repair and prevention of damage in all skin types.
Hydrolyzed F- Fucoidan (Algae)
Anti-aging & repairing - Fucoidans are high molecular weight polysaccharide (50 to 1000kDalton) of partially sufated fucose, forming the skeleton of the algae. The application of fucoses to the skin cells achieves a variety of stimulatory effects while decreasing wrinkles' depth and irritations. It promotes the accelerated healing of wounds (regeneration) and reduces allergic reactions while helping to reverse the signs of aging by bringing back the skin's structure.
Chlorella Sorokiniana (Micro-Algae)
Anti pollution & skin protectant - Chlorella sorokiniana is a microalgae that protects the mitochondrion by enabling it to adapt to its environment and boosting its metabolism. It preserves the equilibrium and correct functioning of the mitochondrion by activating three defense levers that support epidermal regeneration: the quality control of mitochondria, the mitochondrial dynamics and mitophagy. The cells, reloaded with energy, regenerate better in order to form a dynamic and effective skin barrier.
Anti-aging & antioxidant - An encapsulated and ultra stabilized bio-active form of Vitamin A that gradually and effectively converts to Retinoic Acid within the skin in one step, thus bypassing irritation. Retinaldehyde is far less irritating compared to other Retinoids and has one less step involved in the conversion to Retinoic Acid. It is known to have strong antioxidant, anti-inflammatory and antibacterial properties. Retinaldehyde boosts and protects collagen, increases cell turnover and enhances barrier function.
Humectant & anti-aging - Beta-glucans / β-glucans, are polysaccharides found in yeast, plants and seaweed. It is a potent skin humectant with plumping capacity as hyaluronic acid and is high in antioxidants. It attracts water to the top layers of skin while decreasing the look of wrinkles, redness, and irritation. Some tests have shown beta-glucan is 20% more hydrating than hyaluronic acid at the same concentration.
Cylindrotheca Fusiformis (Microalgae)
Anti-wrinkle & anti-aging - Cylindrotheca Fusiformis is a microalgae obtained by a sophisticated method of culture and extraction of microorganisms using a photo-bioreactor with a completely sustainable process. It has a powerful anti-wrinkle effect while stimulating cellular proliferation in the dermis and production of structural proteins by fibroblasts. Clinically, it has been proven to visibly decrease wrinkle depth and volume and dramatically improve elasticity, hydration and softness of the skin.
Alpha-glucan Oligosaccharide
Anti-pollution & cell longevity - A powerful extract from fungus Candida saitoana, obtained by fermentation biotechnology. It boosts the cell autophagy and reinforces cell detoxification thus improving cell and tissue longevity. In vivo testing demonstrates improvement the micro-relief and the overall complexion radiance and uniformity. Alpha-glucan oligosaccharide is a natural prebiotic and a carbohydrate molecule that is bio-selective and has water-binding abilities. It stabilizes the microflora of the skin by encouraging the growth of beneficial bacteria.
Tetrahexyldecyl Ascorbate
Antioxidant & brightening - Tetrahexyldecyl Ascorbate is a stable, oil-soluble form of Vitamin C. Studies indicate that it not only penetrates the epidermis, the uppermost layer of skin, but also the dermis, which is the deepest layer of skin. In fact, it penetrates the skin faster and deeper than any other form of vitamin C. Studies indicate that Tetrahexyldecyl Ascorbate does convert into L-ascorbic acid and behaves in exactly the same way as L-ascorbic acid, but without the limitations. It provides potent antioxidant protection by destroying free radicals that cause premature aging of skin. Vitamin C also helps repair damaged DNA in skin cells and promotes the creation of lipids in the skin barrier.
We Stand For Uncompromising Quality
African Botanics is a cruelty-free, vegan brand. Our products are free from silicones, mineral oil, petrolatum, paraffin, parabens, phthalates, synthetic fragrances and dyes, genetically modified ingredients (GMO), animal-derived ingredients, PEGs and SLS.